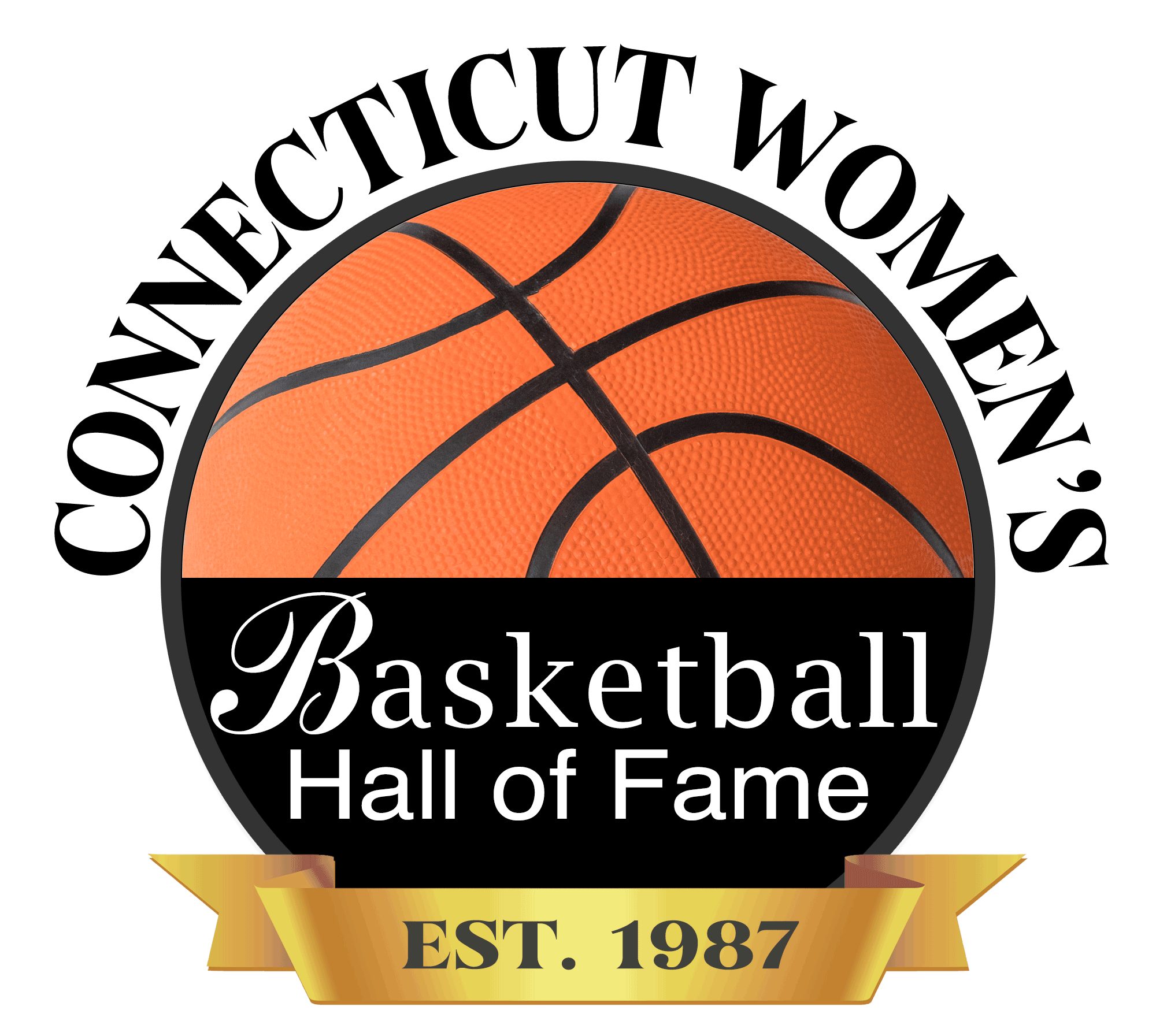 Barbara Abernethy was a basketball player, coach, and official. She was a long-time physical education instructor and athletic administrator at Southern Connecticut State University. Abernethy was recognized as a pioneer and visionary determined to afford girls and women the opportunity to excel not only in basketball but also in every athletic arena. She also excelled on the softball field for the Raybestos Brakettes.
Kelly Camp, a 5-foot-8 guard, was among the state's first true impact players on the high school level in the mid-1970s.

Camp scored a record 1,329 points during her career at West Haven High School. Selected First Team All-State in both 1976 and 1977, Camp was the leading scorer in the New Haven area in 1977 and was named to Parade Magazine's All-America Squad. Co-Captain of the Westies in 1976-77, Camp was named Most Valuable Player for three years (1974-77).

Camp went on to showcase her talent with two major-college programs, first at the University of Wisconsin in the Big Ten and then St. John's University in the Big East.

Although Camp only spent two seasons at Wisconsin, she still ranks among the career leaders in several offensive categories.

From a .500 team, St. John's went 26-8 the next season and earned a berth in the AIAW na-tional tourney due in large part to Camp's talents. Besides being high scorer, Camp led the nation in assists as a senior, averaging more than 10 a game.


Edna Fraser a trailblazer for female athletes, passed away on May 3,
2019. Fraser may have been born, raised, educated and worked in the state of Connecticut, but her contributions to the ideal of gender equality for females extended far beyond the state's borders. Born in New Haven, Fraser went to high school in West Haven and received undergraduate and graduate degrees from New Haven Teachers College, now Southern Connecticut State University. She spent 33 years employed by the
Milford School System as a teacher, coach, and administrator, retiring as the Athletic Director at Foran High School in 1992.

Fraser attended high school and college at a time (late 1940's and 1950's) when there were no competitive interscholastic athletic programs offered for females. The only athletic activities available were intramural games, which did not sit well with Fraser. Instead of accepting the status quo, Fraser used the gender inequality she experienced to fuel her drive to gain equitable opportunities for females in athletics and other areas where it was lacking. She founded the girls' interscholastic athletic program at Foran High School and as stated on her printed obituary, was "a strong and recognized advocate for the adoption and enforcement of Title IX, federal legislation which purported to pave a path leading to gender equality in athletics and education."
In 2013 she published a book titled: "A Level Playing Field", about gender equality and the impact of Title IX on female athletics.

Fraser received many accolades and sports awards throughout her life, including the Edna L. Fraser Gymnasium at Foran High School, which was named in her honor.
Cathy Inglese, successful women's basketball coach, passed away on July 24, 2019. Inglese spent most of her adult life coaching women's basketball. She coached women's basketball at Boston College for 15 years (1993-2008) leading the Eagles to seven NCAA tournament appearances, reaching the Sweet 16 three times and a Big East
Tournament Championship in 2004. Prior to coaching at Boston College, Inglese was the head women's basketball coach at the University of Vermont for 7 years (1986- 1993) leading the Catamounts to two NCAA Tournament appearances and consecutive undefeated regular seasons in 1992 (29-0) and 1993 (28-0). After her success at Boston College, Inglese coached at the University of Rhode Island and in 2005 was an assistant coach of the U.S. team in the World University Games.

Over her 27-year career as a head coach, she amassed over 400 wins.
Inglese was born in Wallingford, CT and played basketball at Sheehan High School, winning a state title in 1976. She went on to play basketball at Southern Connecticut State University. Throughout her career, she received many coach of year honors and was inducted into state and university halls of fame.

In a Sports Illustrated article, UConn coach Geno Auriemma said of Inglese, "It wasn't a job to Cathy, it was a lifestyle. No one was more passionate and more dedicated to being a coach. She lived it, every day." Inglese touched many lives as a coach, educator, mentor and friend. Despite her many well deserved honors, awards and accomplishments, she remained a humble, kind and caring person to all who knew her and was always willing to lend a hand to help others.
After graduating from Southern Connecticut State College, Erika Beerbaum helped build a strong athletic program and "basketball tradition" at Lyman Hall High School in Wallingford. She was instrumental in the formation of the Girls' Division of the Housatonic League. Beerbaum transferred across town to the newly built Sheehan High School in 1971.

The Sheehan athletic program flourished in the early seventies and in 1975, her basketball team won the Housatonic League Championship. The following Fall, Beerbaum's volleyball team placed second in the Class M State Championship and in 1976, the Sheehan basketball team won the Class L State Championship. As a coach, Beerbaum expected her players to be totally committed to the program and to be "exceptional people" on and off the court. In 2005, she was inducted into the Mark T. Sheehan Hall of Fame.
Arden Curtis is one of Connecticut's pioneers in women's sports. She was a physical education teacher, coach, referee, and activist for girls' and women's athletic opportunities at all levels. During her 32-year teaching career, Curtis was a basketball official, gymnastics coach, cross country coach and track coach.

Curtis was a driving force within the CIAC and the Connecticut High School Coaches' Association for expansion and acceptance of girls' varsity athletics programs. She received na-tional and statewide recognition for her outstanding leadership and for her contributions to girls' and women's athletics. Her contributions were acknowledged by her induction into the New Agenda Northeast Women's Hall of Fame.
Marie Heady's distinguished high school basketball coaching career at Fairfield's Roger Ludlowe High School spanned 24 seasons. Her teams posted a 239-154 won/loss record from 1964-1988.

Heady received the Connecticut High School Coach of the Year Award in 1984. Her teams competed in eight state tournaments, two state quarterfinals, four league play-offs, and her 1965 team was undefeated.

In 1987, Heady received the Women's Basketball Coaches Association 200 Victory Club Award, as well as the National High School Coaching Award with Scholastic Coach Magazine's Basketball Coach Gold Award. She served on the FCIAC and CIAC Basketball Committees, chairing the latter. As CIAC chair, she was responsible for starting the MVP Award in each division of the State Basketball Tournament. Heady also helped initiate the first CHSCA All-Star Basketball Game.
Bo Kolinsky began his sports writing career with the Hartford Courant in 1973. Throughout his 28-year career, Bo concentrated primarily on state high school sports, including girls' basketball. In 1977, he was assigned responsibility for the Courant's statewide high school coverage. He was instrumental in initiating the All State/All Courant Athlete recognition program in 1983-1984. That program honors athletes in 21 sports. Bo's sincere interest in coaches and athletes, his incredible memory, and his warm sense of humor were among his greatest attributes.

Bo's contributions to high school athletics were recognized by almost every sports organization in Connecticut, including the Coaches' Association, which presented him with the Joseph Fontana Distinguished Service Award in 1984. In 1987, the Connecticut Association of Athletic Directors honored him with its Distinguished Service Award for work outside the field of athletics. The National High School Athletic Coaches' Association recognized Bo with the District I Distinguished Service Award in 1996. He was inducted into dozens of Halls of Fame and was acknowledged by his peers with the Connecticut Sports Writers' Alliance Art McGinley Award for meritorious service.
Mary Benevento was a high school coach, a college coach, a basketball official, and an athletic director. Benevento held the distinction of being the first female Athletic Director named at a public high school in New England. From her position as Athletic Director at Lee High School in New Haven, Benevento went on the become New Haven's Supervisor of Health, Physical Education, and Athletics, and then Athletic Director at Albertus Magnus College. She was also the first woman inducted into the New Haven Tap-Off Club's Hall of Fame in 1971.

Benevento served as chairperson of the Connecticut Women's Board of Officials in the 1950's, as a National Basketball Committee Member, as Connecticut State Coordinator of Officiating Boards, and as Connecticut Chairperson of the Women's National Officials' Committee. She was honored by the CIAC, by the Connecticut Association of Health, Physical Education and Recreation, and by the University of Bridgeport's Arnold College, which named her Outstanding Alumna of the Decade.
A U.S. Navy Veteran who saw service in World War II and in the Korean War, Kay Flanagan's dedication to country carried over into her career as a teacher and coach. She taught Physical Education in Farmington and Woodbury, and coached soccer, field hockey, basketball and softball.

At the University of Bridgeport's Arnold College, Flanagan held the positions of Instructor of Health and Physical Education and Assistant Dean of Women. She organized and played on basketball and softball teams which won championships throughout New England.


During her athletic career, Jean Hunt coached basketball, softball, field hockey, volleyball, soccer, track, and badminton. Hunt's overall sports record was an amazing 502 wins, 139 losses, and 44 ties. Hunt's teams won 11 state championships, eight conference championships, and enjoyed 20 undefeated seasons in six sports.

"When we first started basketball in the 1950s and '60s, we were only able to use the gym on Tuesday and Friday afternoons because the boys played their games at night. We played may-be six games in a season."

Hunt officiated basketball for 24 years, both on the high school and college levels. She served as Chairman of the Connecticut Board of Women Officials and as CIAC Committee Member for Tournament Play.

Hunt has received numerous honors. In 1985, she was inducted into the Connecticut High School Coaches' Association Hall of Fame. In 1986, the CIAC Class M Most Valuable Player Trophy was named in her honor. She was inducted into the New Agenda: Northeast Hall of Fame in 1989 and received the Field Hockey Coach GOLD AWARD - a National High School Coaching Award.

Hunt received the NAGWS Pathfinder Award (1992), was honored with the Project Acclaim Mentor award in 1996 by NAGWS, was inducted into the Connecticut Women's Volleyball Hall of Fame (1998) and in 1999, received CT's "Best of CENTURY" award from the Hartford Courant in the multi-sport category. Hunt was inducted into the National High School Athletic Coaches Hall of Fame and the Connecticut Field Hockey Hall of Fame in 2000 and the Litchfield Athletic Hall of Fame in 2003. She was honored with the CT Sports Writer's Alliance Gold Key Award in 2001.
Ellie Lemaire joined the staff of Arnold College at the University of Bridgeport in 1964, and coached the only undefeated women's basketball team in the school's history. Very active in officiating, Ellie was both basketball chairperson, and board chairperson of Southwest Connecticut's Board of Women Officials from 1963 to 1966, and was Officiating Coordinator of the Eastern District from 1967 to 1969. She was a rated official in basketball, volleyball and field hockey. In 1976, Ellie returned to her native Rhode Island to serve as Assistant Athletic Director for women at the University of Rhode Island. At the time of her retirement, Ellie was the Senior Associate Director of Athletics.

Ellie has been selected to Halls of Fame at the University of Rhode Island (1994), the University of Bridgeport (1990), the New Agenda/Northeast Women (1990), and Bristol, RI 1986. She also has been the recipient of many other honors and awards including the CAHPER Professional Award, the A.T. Cranston Award (R.I.), Outstanding Teacher Award (University of Bridgeport), Distinguished Service Award (New England College Athletic Conference), Administrator of the Year (National Association of College Women Athletic Administrators, District 1), the Katherine Ley Award (Eastern College Athletic Conference), and the University of Rhode island Administrative Excellence Award. She is listed in Who's Who of American Women.

An early and long time advocate of Tide IX, Ellie was selected as a consultant in sport equity matters for the Connecticut Department of Education and the University of Bridgeport. During her long tenure in athletic organizations, she was a member of the AIAW Executive Board, President of EAIAW and Rhode Island AIAW. Most recently, Ellie was a member of the NCAA Special Events Committee that makes selections for College and High School All-Star Teams.

https://web.uri.edu/quadangles/the-grueling-politics-of-women-and-sports/